Pat Sampson joins viax.io as Head of Solution Engineering
As an experienced professional in the software industry, Pat Sampson brings over 29 years of expertise, having worked for companies of all sizes in various roles. With a primary focus on the Commerce arena, Pat has also made significant contributions in the Product Information Management (PIM) and Configure, Price, Quote (CPQ) spaces.
Currently serving as the Head of Solution Engineering at viax, Pat's extensive background in Pre-Sales Engineering, Go to Market, and Product Management positions him as a valuable asset to the company. In this blog post we talk to Pat about working at viax, his previous role, and his predictions for the future of B2B Commerce.
When asked about what excites him most about working at viax, Pat shared, "What excites me most about working at viax is getting back to being part of a startup company. The pace of innovation, focus on customer success, and ability to have a direct impact on the product can only be found in working for a startup. Viax's B2B focus and deep pool of talented people make it the ideal company."
Reflecting on his previous role as the Director of Solution Architecture for SAP Customer Experience, Pat spoke passionately about his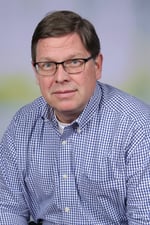 experience, stating, "I most enjoyed working with my team to craft innovative solutions to our customers' challenges. My team was responsible for leading the conversation with customers on the technical topics that typically are not addressed as part of a pre-sales product demo."
Highlighting his enthusiasm for B2B customers, Pat said, "I'm most excited about working with B2B customers. Throughout my career, I have always gravitated toward the B2B side of Commerce. B2B adds a whole new set of complexities and challenges our customers need to address beyond the typical D2C experience and results in a more gratifying experience when those customers go live."
When discussing his predictions for the B2B Commerce landscape, Pat shared, "I expect the B2B commerce landscape to go through another phase of rapid growth as outdated on-premise solutions reach end-of-life. Customers will seriously evaluate what it will take to replace their old applications, continuously deliver innovative and engaging customer experiences, reduce technical debt associated with extending capabilities, while also reducing their total cost of ownership."
With Pat's extensive experience and expertise in the software industry, his role at viax as Head of Solution Engineering is instrumental in driving the company's growth and success. Pat's excitement about working in a startup environment, his passion for crafting innovative solutions, and his deep understanding of the B2B Commerce landscape position viax at the forefront of the industry.
viax is well-equipped to meet the evolving needs of B2B Commerce, providing customers with cutting-edge solutions and exceptional customer experiences. With the addition of Pat Sampson, viax is poised to continue delivering innovative, tailored solutions to B2B customers while driving the future of the industry.