Industry News and Resources.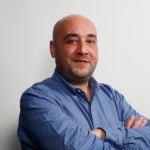 Alex Podolsky
Head of Architecture | Alex brings two decades of enterprise commerce experience to his role at viax.io, most recently as a co-founder and partner at TMG.io. There, he was the senior architect for some of TMG's most technically demanding projects, including those for Boeing and Doosan, while also building and managing TMG's Ukraine-based development team of 80+ engineers. Before this, he was director of development at Preplansource and held various positions as solutions architect.
While we aren't alone in creating a cloud-based platform-as-a-service (PaaS), we're convinced that...